Frequently asked questions
Our diapers
How do your diapers work?
Our modern, reusable diapers consist of two parts:
Absorbent natural materials made from organics: multi-layer absorbent pads made from organic cotton for daytime and additional absorbent boosters made from an organic cotton and hemp blend for nighttime
Waterproof but air-permeable overpants made of PUL (Laminated Polyurethane)

The absorbent pads are inserted into the overpants. The diaper prepared in this way is put on the baby and closed with velcro or snaps.
What advantages do your diapers have over disposable diapers?
In addition to avoiding over a ton of (plastic) waste over the entire diapering period, you are primarily supporting your baby's health with our diapers. Your baby's skin does not come into contact with potentially harmful substances that can irritate it, and is less prone to diaper rash.
Our diapers also support your baby's natural hip development by encouraging what's known as the squat-to-spread posture, which can help prevent hip dysplasia.
Cloth diapering enable the natural wetness feeling and allows your baby to retain its sense of excretions. This allows your child to become dry sooner.
Can I diaper with your diapers right from birth?
Of course! You get from us special diapers for newborns, which fit ideally in the first two to three months. Since cloth diapers sit quite low, the belly button can dry and heal well outside the diaper.
Can I use cloth diapers at night?
Of course. At night, it's best to use our organic cotton and hemp absorbency boosters, which allow you to customize the capacity of the diaper.
Can I also diaper on the go with cloth diapers?
Of course you can! You simply transport the used diapers home in one of our small or medium-sized wet bags. These are waterproof and can be used beyond diaper-changing time, for example, for swimwear or dirty (daycare) clothes.
Don't your diapers make a very large diaper butt?
No. Our modern system allows for a slim diaper package, so that the famous "cloth diaper bottom" is avoided and your baby can sleep comfortably on his back.
Of course, it is true that a cloth diaper is more bulky than a fresh (!) disposable diaper. But don't worry, your child can wear normal baby clothes like bodysuits and rompers. Our Body Extenders have proven to be extremely valuable. They extend the bottom of the body by a few centimeters and this can be used 1-2 sizes longer.
Do your diapers allow the same freedom of movement as disposable diapers?
Yes. A properly fitted diaper will not restrict your baby's movement or motor development. We're happy to show you how to do it!
What happens with the poo?
At least from the introduction of solids, the use of diaper sheets is required.
A sheet is thereby inserted as the top layer in the diaper and the poop thus disposed in the waste.
What we produce waste? No problem for our wastemanagenemt: Our diaper sheets are made of 100% tear-resistant pulp, oxygen bleached and compostable.
My baby is several months old and we have been using disposable diapers so far. Can I still switch to your reusable diapers?
Yes, you can! We have already helped many parents make the switch.
You've moved past the exciting getting-to-know-you period and found your own rhythm. Now you can tun over the washing to us.
Some children react a little more sensitively to the (unfamiliar) wetness and show you that the diaper is wet and they want to be changed. Great! This is your first step on the path to trusting elimination communication.
With the help of our personalized advice and guidance, you'll get started on waste-free diapering and be happy for every plastic diaper you save.
We want to practice elemination communication (partially). Does that work with your diapers?
Sure it does, it's a great combination! If the diaper stayed dry, it can be easily put back on. But if the diaper gets wet, your baby gets direct feedback through the wetness feeling. This supports you in the elimination communication.
Our diaper service
How does your diaper service work?
We understand our diaper service as an all-around service. This includes:
Rental of all the necessary absorbent pads and absorbent boosters for carefree and uncomplicated cloth diapering
Wash delivery service with a weekly exchange of used diapers for fresh ones
Personalized advice and guidance throughout the diapering period
Did you invent this particular service?
No, the first diaper services emerged after the Second World War. Especially in the postwar years of the United States, the services became interesting for the now working mothers. We have continued to think about this concept and consistently implemented it.
How are the diapers transported?
The diapers are transported to you completely emission-free with our electric delivery trucks. To optimize the CO2 balance, we charge exclusively with 100% green electricity.
Where and how are the diapers washed?
Your diapers are washed on-site in commercial laundries according to hospital standards. This eliminates the transmission of viruses or other pathogens. You can look forward to hygienically clean and wonderfully soft diapers.
Our laundries work with commercial washing machines, efficient filling and water quantities, and adapted temperatures. The energy balance is thus significantly better compared to household washing machines.
What kind of cloth diaper system do you use?
We use a two-piece system in which the prefold is inserted into a waterproof overpant. This cloth diaper system is the most widely used because the absorbency is customizable and the system allows for a narrow diaper package.
Our prefolds and boosters are made exclusively of natural materials such as unbleached organic cotton for daytime and an organic cotton and hemp blend as an absorbent booster for nighttime.
We also rent overpants made of a waterproof coated breathable fabric. But wool overpants can also be used.
Is there a limit on the number of diapers you provide?
No.You get as many absorbent pads as you need, in the appropriate size. We always make sure that you have enough diapers at home. Should you need supplies, you just let us know.
How are the used diapers stored?
You collect the used liners in a large, reusable diaper bag that we provide.This is made of a coated fabric – just like our overpants – that is waterproof but breathable at the same time.
Thanks to this ventilation, odor is minimized and you can comfortably collect until the next diaper change. This diaper bag you hand over to us at the diaper exchange at the door to get a new diaper bag in return with your freshly inserts.
Do we always get back the same diapers after washing?
Yes. Each and every one of our soaker liners is labeled. You will keep your assigned diapers until you change to the next size or your child is dry.
Our diaper service for you
How can I use your diaper service?
Feel free to use the contact form.
Or just email or call us directly:
Berlin sonja@windelei.de or +49 160 304 98 98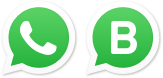 Munich franziska@windelei.de or +49 170 90 67 641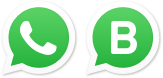 Of course, you can also leave us a message on Facebook or Instagram.
We look forward to hearing from you!
How do we get started with diaper service?
After you contact us, we'll schedule an appointment to deliver your diaper package and provide a detailed initial consultation. We are also happy to come to your home for this as early as two weeks before your delivery date.
As part of our new customer offer you can start diapering directly after the birth of your child. If you have any questions or problems, you can contact us at any time. After one week, we come to the first diaper exchange and discuss any follow-up questions.
After another test week, you decide if and how you want to continue with the diaper service.
Is there a fixed weekly exchange date for us?
Yes, we agree together on a fixed day and time when your diapers will be changed weekly.
If you are not at home, just let us know where we can find your diaper bag (for example, in front of the apartment door, in the stroller in the hallway, next to the trash can or at another suitable storage location) and exchange it. The only requirement is a dry, easily accessible storage place.
How do you do it on holidays?
We communicate changes due to holidays in time in direct contact. In most cases, the diaper exchange is postponed by one or two days. Should you not be there on the alternative exchange date, we will find an individual solution for you.
What happens if we go on vacation or are on parental leave for a longer period of time?
For vacations of up to one week, diaper service will continue as normal. We will arrange an alternative exchange date or exchange the diapers in your absence.
For longer absences, we will find an individual arrangement. For example, you can rent the diapers for this period (without wash-delivery service) and we will resume the diaper service afterwards. Just talk to us.
I live in the Berlin / Munich area. Do you also drive to us?
We currently serve both city areas as well as some surrounding communities of Munich. The best thing you can do is ask us if your place of residence is also one of them.
I don't live in Berlin or Munich – what now?
We are working on being able to offer our diaper service in other cities as well. Until we are available in your city, why not check out our Rental Package!
You still want to have your baby's diapers washed by us? We now also offer a shipping-based diaper service. We provide you with a shipping box in which you send us your used diapers once a week. You will be provided with enough absorbent pads from the beginning and will receive regular supplies from us, so that you are always well supplied with freshly washed pads. As with our rental packages, the consultation and personal support will take place via video chat.
Our offers
What services does your offer specifically include?
Our diaper service includes:
The rental of diapers in the respective required number and size,
The weekly delivery and collection of diapers,
Personal advice and guidance.
This means that if you have any questions or problems, you can contact us at any time and get advice and support.
Where are the differences between classic and premium service?
With the Classic Service, we rent you our prefolds and boosters in the number and size you need, as well as a large laundry bag to store the used pads. In the first months of life, we also provide you with the necessary overpants for newborns.
With the Premium service, in addition to the classic equipment mentioned above, we rent out overpants that fit your baby until its potty trained, as well as additional wet bags, nursing pads and a changing mat for when you're on the go as accessories. We also provide you with as much diaper sheets as needed.
What is the contract period and what is the cancellation period?
Our new customer offer ends automatically after two weeks. You then decide whether you want to continue using our diaper service and choose either the basic offer or one of our package offers:
With our Basic Offer, whether Classic or Premium, you book the diaper service continuously for one calendar month. You have the option to cancel every month until the 10th of the respective month at the end of the month.
Our package offers also as classic or premium service have a term of three, six or twelve months. They end automatically and the diaper service will continue in the basic offer if no cancellation is made up to two weeks before the end of the term.
What payment options do I have?
You can choose between convenient Direct debit and Transfer after billing.
How do I cancel the service?
Cancellation can be made in writing by mail or email.
What is a "diaper subsidy" and where is it available?
Some communities around Munich grant a so-called "diaper subsidy". That is, you get from the respective municipality a (one-time) subsidy amount of 50 to 75 €, if you use our diaper service. This includes the following communities:
85774 Unterföhring: 50€
85737 Ismaning: 50€
85716 Unterschleissheim: 75€
85221 District of Dachau: 75€
83714 County of Miesbach: 50€
82319 City and county of Starnberg: 50€
82256 County of Fürstenfeldbruck: 75€
82031 Grünwald: 55€
82008 Unterhaching: 50€
We explain the details to you and of course help with the application.
Of course, we also make ourselves strong in Berlin and Munich for the (re)introduction of the diaper subsidy. You can support us by actively asking your city council and the waste management companies for a diaper subsidy!
Is your service really much more expensive than if I diaper my child in disposable diapers?
Of course not! There we have calculated quite accurately – despite the production in Germany!
Besides the priceless positive impact on the environment and health, we are absolutely comparable to the use of disposable diapers.
Too bad for us, but on average cloth diaper children are hardly diapered longer than 2-2.5 years. (See item "Our diapers – advantages of our diapers compared to disposable diapers) And this compared to 3 years of use of disposable diapers.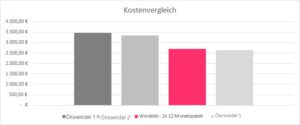 The environment benefits - our joint impact on sustainability
The environment benefits – our joint impact on the a
How much diaper waste do we avoid by using your diaper service?
A child needs approximately 5000 to 6000 diapers by the time he or she becomes dry at the average age of three. That equates to about one ton of diaper waste per child.
Unfortunately, children who are diapered with disposable diapers often become dry much later, further increasing the mountain of waste.
Why is diaper waste so problematic?
Disposable diapers are made up of a very high percentage of plastic. Energy must be added in waste incineration to burn wet plastic diapers. The highly toxic filter dusts left behind are stored in disused mines in Germany.
If plastic diapers do not end up in incineration, but in a landfill or even in nature, they need about 500 years to decompose into microplastics.
Why are cloth diapers more sustainable?
The core lies in the reuse of the diapers. Since the production of our diapers also consumes resources, it would still not make much difference if they were only used on one child. However, with our diaper service, we can ensure that our diapers find use with many children, thus improving their CO2 balance more and more. If they then have to be sorted out after many years, they continue to find use as excellent cleaning cloths.
Why are especially your diapers sustainable?
We used only natural materials for our absorbent pads, that is, organic cotton and hemp, grown without pesticides, with less use of water and ecological management of the fields.
Where are your diapers made?
Throughout our supply chain, from production to delivery, we take care to make our products as regional and environmentally friendly as possible.
Our overpants and accessories are currently produced in Germany and Poland under ethically fair conditions.
How sustainable is your diaper service?
Our diapers are cleaned in industrial laundries using industrial washing machines. Due to larger capacities and correspondingly adjusted water and detergent quantities, energy requirements and environmental impact are minimized.
In addition, the issue of sustainability is our top decision:
from the electric delivery truck,
about the flyers made of recycled paper,
the shipping with recycled envelopes and boxes.
to the account with an environmental bank,
or the use of green electricity!
In this sense, we question all our decisions in terms of their impact on our environment.
Covid-19
I am interested in your new customer offer. How does the initial consultation currently work?
We are pleased to continue to offer you our personal consultation. To the appointment at your home, we wear FFP2 masks and of course keep the required distance.
Alternatively, we can also offer you a consultation via video chat. To do this, we deliver your diapers in advance contactless, so that you can practice later during our conversation right away. This form of consultation also works very well.
Is a contactless diaper exchange possible?
Of course! Please guarantee us access to your diaper bag by leaving it outside your front door or other convenient location, and we will exchange it there without contact.
Can I get infected with Corona at the laundry bag, for example, when exchanging diapers?
The risk is actually very low. Corona viruses are usually transmitted through secretions from the respiratory tract. Handshakes, hugs and similar close physical contact then get the viruses onto our hands. But because we have to blow our nose, scratch our face or rub our eyes, the journey continues into the vicinity of our own respiratory tract.  That's why good hand hygiene during our diaper trips is an essential part of prevention for us.
Moreover, from a scientific point of view, the risk of infection through inanimate surfaces is low relative to other transmission routes. Therefore, infection with corona virus through surfaces that do not belong to the direct environment of a sick person, such as our diaper bags, seems unlikely.
Can corona viruses still be found on diapers after washing?
No. The genetic material of corona viruses is surrounded by a layer of fat (lipid layer). Ordinary detergents contain surfactants that have a lipid-dissolving effect and attack the surface of the viruses. For household laundry, this means that if you wash clothes such as shirts, sweaters and jeans, a temperature of 30 degrees is sufficient – as long as you use detergent. It is not necessary to add a disinfecting hygiene rinse. Cleaning cloths, dishcloths and towels, washcloths, light-colored bed linen and cotton underwear should be washed at 60 degrees with a detergent containing bleach to protect them from viruses.
As a diaper service, we are subject to the hospital hygiene regulations of the Robert Koch Institute (RKI). Our diapers are therefore washed at over 60 degrees with an RKI-certified detergent that has been proven to kill viruses and is suitable for normal hospital use.